Episodes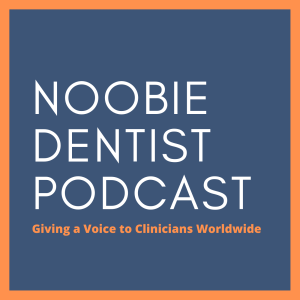 Wednesday Oct 13, 2021
Wednesday Oct 13, 2021
Intro
Today, I welcome back Dr. Davey Alleman who is a private practice general dentist in Utah. Prior to this, he served as a dentist in the US Army for five years. Passionate about improving outcomes, Dr. Davey and his father teach a year-long course in biomimetic dentistry to dentists all over the world. 
For the second episode in the Noobie and Friends series, we review the principles and practice of biomimetic dentistry. Dr. Davey shares the step-by-step procedure of biomimetic restoration and how he manages cracked tooth syndrome. 
Guest Details
Social Media:
Time Stamps
[00:04:37] Dr. Davey's journey to biomimetic dentistry
[00:08:24] Biomimetic Dentistry Mastership Course
[00:18:19] Biomimetic approach to assessment and restoration 
[00:25:58] Philosophy of biomimetic dentistry
[00:28:39] Biomimetic direct restoration
[00:37:18] Etch placement
[00:41:01] Air-drying solvents in bonding agents
[00:44:53] Restorative composites: flowables and injectables 
[00:52:18] Early diagnosis of cracked tooth syndrome 
[00:57:42] The importance of visualization in restoration plans 
[01:00:43] Vertical cracked tooth
[01:03:17] Depth of crack excavation
[01:09:03] Know your own expertise
Podcast Details
As always, if you enjoyed listening to the Noobie Dentist Podcast, please pass
the podcast along to your friends, classmates and colleagues. If you haven't already, head
over to iTunes and give the show a 5-star rating and if you have some time, leave a review!
The Noobie Dentist podcast is now available on Spotify, YouTube, noobiedentist.com, the Apple
podcast app, Stitcher and any other podcast apps out there!
Website: http://www.noobiedentist.com
Instagram: @noobiedentist
Sponsor Details
MoreDent is driving the charge forward in integrated digital dentistry by providing world class education, equipment, products, solutions, and support to thousands of practices. Their goal is simple: to enhance clinical and patient outcomes so that dentists and patients alike can enjoy the highest possible level of success.  
To find out more, visit  www.moredent.com.au
Conclusion
Are you interested to learn more about biomimetic dentistry? Did you find Davey's tips useful? We would love to hear your thoughts! 
Remember to subscribe for more content!