Episodes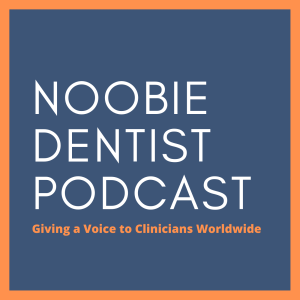 Monday Mar 01, 2021
Monday Mar 01, 2021
The Noobie Dentist Podcast – Kelly Gall & Kent Desarmia
Episode Run Time: 00:50:12
Intro
Today, I talk to Kelly Gall and Kent Desarmia. Kelly is a Director – Commercial Business with Credabl. Kelly has assisted countless dental professionals to fulfil their practice dreams for over a decade. Her high service levels and valued expertise, have seen Kelly become a trust advisor and friend to the profession. Kent has been working within the dental and healthcare market for over 20 years. For the past 8 years Kent has been the National Business Development Manager with Medifit Design and Construct bringing clients vision and practices through the design and construct journey. Medifit has completed over 600 projects since 2002.
In this interview we talk about the next steps after securing funds for your practice. We discuss how to decide between purchasing an existing practice or starting your own, and the associated challenges that come with starting from the ground up.
Guest Details
Social Media:
Time Stamps
[00:05:18] Buying or starting your own dental practice
[00:07:50] Demographics of practice ownership
[00:10:21] Consulting with a specialist for loans and costs
[00:12:36] Factors to consider in choosing a site
[00:19:38] Selecting the right construction company
[00:23:33] Necessary preparations to transition into own practice
[00:29:32] The norm in financing your own practice
[00:36:18] Should you do a long-term lease or buy a building?
[00:39:45] Incentives for leasing a space
[00:42:00] Construction and fit out warranty
[00:43:39] Trust and enjoy the process
[00:45:00] Rates & fees, payment terms, security, covenant
Podcast Details
As always, if you enjoyed listening to the Noobie Dentist Podcast, please pass
the podcast along to your friends, classmates and colleagues. If you haven't already, head
over to iTunes and give the show a 5-star rating and if you have some time, leave a review!
The Noobie Dentist podcast is now available on Spotify, YouTube, noobiedentist.com, the Apple
podcast app, Stitcher and any other podcast apps out there!
Website: http://www.noobiedentist.com
Instagram: @noobiedentist
Sponsor Details
If you need finance, be it for your personal or professional needs, the team at Credabl know the drill. From home loans and car loans to equipment and fit out loans, or even commercial properties and practice purchases, the medical finance specialists at Credabl will provide a tailored solution for you.  
To find out more, visit www.credabl.com.au 
Conclusion
What do you think about buying VS starting your own practice? Did you find Kelly and Kent's tips useful? We would love to hear your thoughts!
Remember to subscribe for more content!