Episodes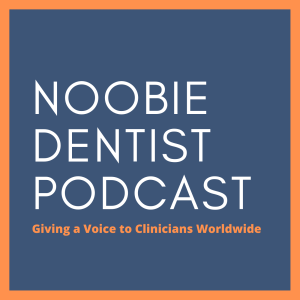 Tuesday May 18, 2021
Tuesday May 18, 2021
Intro
Today, I talk to Dr. Varun Garg, a prominent prosthodontist based in Melbourne, Australia. In 2007, he completed his Bachelor of Dental Surgery and went on to work as a general dentist. His interest in prosthodontics led him to pursue a postgraduate degree from the University of Melbourne. In 2017, he received his doctorate in prosthodontics along with the Dr. Steele Award for outstanding clinical skills. 
In this fourth episode of the dental implant audio residency series, we talk about the restorative aspect of implant dentistry. Dr. Varun details the planning and execution process for restoring implants. He also shares tips on how to maintain implants to ensure longevity.
Guest Details
Social Media:
Time Stamps
[05:04] Implant restoration and treatment planning
[08:25] Implant impression taking 
[10:04] Closed tray VS open tray impression technique
[13:11] Implant temporisation
[16:10] Screw-retained VS cement-retained implants
[19:56] Designing the abutment: titanium or zirconia
[22:38] Restoring correct occlusion with implants
[24:52] Dental implant fitting process 
[30:25] Common early issues post insertion of implant 
[33:28] The 6-month recall implant check-up
[35:50] Cleaning around the implant
[38:17] Planning is everything
Podcast Details
As always, if you enjoyed listening to the Noobie Dentist Podcast, please pass
the podcast along to your friends, classmates and colleagues. If you haven't already, head
over to iTunes and give the show a 5-star rating and if you have some time, leave a review!
The Noobie Dentist podcast is now available on Spotify, YouTube, noobiedentist.com, the Apple
podcast app, Stitcher and any other podcast apps out there!
Website: http://www.noobiedentist.com
Instagram: @noobiedentist
Sponsor Details
MoreDent is driving the charge forward in integrated digital dentistry by providing world class education, equipment, products, solutions, and support to thousands of practices. Their goal is simple: to enhance clinical and patient outcomes so that dentists and patients alike can enjoy the highest possible level of success.  
To find out more, visit  www.moredent.com.au
Conclusion
Do you plan to specialise in implant dentistry? Did you find Dr. Varun's tips useful? We would love to hear your thoughts! 
Remember to subscribe for more content!