Episodes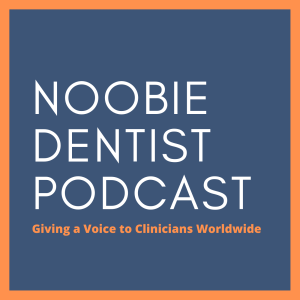 Monday Apr 19, 2021
Monday Apr 19, 2021
The Noobie Dentist Podcast – Nu Dastaran
Episode Run Time: 00:45:21
Intro
Today, I talk to Dr. Nu Dastaran, an oral and maxillofacial surgeon in Melbourne. Originally from London, she graduated with a medical degree from the University of Bristol. Through exposure to and her interest in head and neck anatomy Dr. Dastaran decided to start the journey towards becoming an OMFS. She completed her OMFS training in Australia and  has been practicing as an OMFS for 5 years now.
In this second episode of the dental implant audio residency series, we talk about the surgical aspects of implant dentistry. Dr. Nu Dastaran details her workflow from patient assessment, surgery planning, flap design, down to the actual implant procedure. We also discuss her preference for single vs two stage implant procedures and freehand vs guided placements.
Guest Details
Social Media:
Instagram: https://www.instagram.com/oralandfacialsurgeon/

Radiograph on Noobie Dentist Website: https://noobiedentist.com/wp-content/uploads/2021/04/Untitled-1.png
Time Stamps
[04:30] How Dr. Nu specialised in oral and maxillofacial surgery
[07:48] Dr. Nu's day to day practice as an OMFS
[10:41] Patient assessment & diagnosis in implant treatment
[16:52] Analysis of a sample radiograph
[23:10] Implant surgery procedure from start to finish
[27:18] One-stage VS two-stage implant placements
[29:01] Uncovering a dental implant
[30:09] Freehand placement vs guided placement
[31:38] Tips for preparing implant site
[38:47] Focus on the long-term prognosis 
[40:58] Using guided placement as a learning tool
[43:21] Don't be hard on yourself
Podcast Details
As always, if you enjoyed listening to the Noobie Dentist Podcast, please pass
the podcast along to your friends, classmates and colleagues. If you haven't already, head
over to iTunes and give the show a 5-star rating and if you have some time, leave a review!
The Noobie Dentist podcast is now available on Spotify, YouTube, noobiedentist.com, the Apple
podcast app, Stitcher and any other podcast apps out there!
Website: http://www.noobiedentist.com
Instagram: @noobiedentist
Sponsor Details
MoreDent is driving the charge forward in integrated digital dentistry by providing world class education, equipment, products, solutions, and support to thousands of practices. Their goal is simple: to enhance clinical and patient outcomes so that dentists and patients alike can enjoy the highest possible level of success.  
To find out more, visit  www.moredent.com.au
Conclusion
Do you plan to specialise in implant dentistry? Did you find Dr. Nu's tips useful? We would love to hear your thoughts! 
Remember to subscribe for more content!