Episodes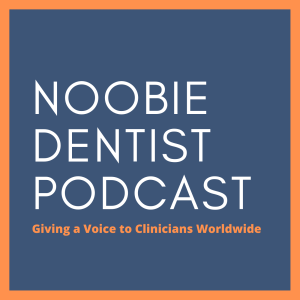 Thursday Dec 24, 2020
Thursday Dec 24, 2020
We live in a very small world these days and our dental world is even smaller. Dental Podcasts have been exploding lately with a lot of amazing podcasts springing up in all corners of the world. I personally have benefited so much in various aspects of my life from podcasts and the amazing value they provide. Within dentistry, dental podcasts are leading the way in combining education and entertainment for hundreds of thousands of dentists per month.
In this week's bonus episode I had the awesome pleasure of having a conversation with Dr. Melissa Seibert, host of the Dental Digest Podcast (https://www.dentaldigestinstitute.com/). Dr. Seibert is leading the charge in the next generation of dental podcasts in the United States and has some ambitious plans to change the face of dental education. In this episode we dive into our back stories, why we started our respective podcasts and much more.
Guest Details:
Instagram: @dental_digest_podcast
website: https://www.dentaldigestinstitute.com/
Podcast Details
As always, if you enjoyed listening to the Noobie Dentist Podcast, please pass
the podcast along to your friends, classmates and colleagues. If you haven't already, head
over to iTunes and give the show a 5-star rating and if you have some time, leave a review!
The Noobie Dentist podcast is now available on Spotify, YouTube, noobiedentist.com, the Apple
podcast app, Stitcher and any other podcast apps out there!
Website: http://www.noobiedentist.com
Instagram: @noobiedentist
Be sure to Like the video and subscribe to my channel for more great content!
Instagram: @noobiedentist 
Links to the podcast and over valuable content: linktr.ee/noobiedentist