Episodes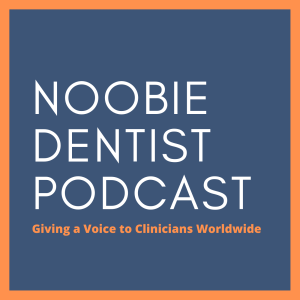 Monday Mar 15, 2021
Monday Mar 15, 2021
The Noobie Dentist Podcast – Albert Gigl & Craig Spiegel
Episode Run Time: 00:52:09
Intro
Today, I talk to Albert Gigl from MW Partners and Craig Spiegel from Credabl. MW Partners Specialist Dental Accountants provides financial planning and legal services to dentists. Their team of qualified accountants have decades of experience in helping dental practices and dentists with taxes, bookkeeping, and other business solutions. Meanwhile, Credabl specializes in healthcare finance. With their industry specific knowledge, Credabl meets the needs of healthcare practitioners through specialized lending.
In this interview we talk about financial planning and the sequencing of major purchases. We also discuss suggested accounting set-ups for a practice, and the common mistakes aspiring practice owners should avoid.
Guest Details
Albert Gigl 
https://www.mwpartners.com.au/
LinkedIn: Albert Gigl LinkedIn   
Craig Spiegel
LinkedIn: Craig Spiegel LinkedIn
Time Stamps
[08:01] Should you purchase a practice or a house first?
[11:16] Getting a practice loan when you have a mortgage
[14:53] Financing a car and timing your purchase
[21:30] How to structure a practice's accounting and finance 
[26:22] Service Facility Agreement & GST
[30:30] Payment structure for practice owners
[33:20] Factors that lenders consider before approving a loan
[37:34] Common mistakes by practice owners
[42:58] Things to consider before starting own practice 
[45:50] Summary of key points
[46:41] Consider rural dentistry practice
[48:04] Get specialised help 
Podcast Details
As always, if you enjoyed listening to the Noobie Dentist Podcast, please pass
the podcast along to your friends, classmates and colleagues. If you haven't already, head
over to iTunes and give the show a 5-star rating and if you have some time, leave a review!
The Noobie Dentist podcast is now available on Spotify, YouTube, noobiedentist.com, the Apple
podcast app, Stitcher and any other podcast apps out there!
Website: http://www.noobiedentist.com
Instagram: @noobiedentist
Sponsor Details
If you need finance, be it for your personal or professional needs, the team at Credabl know the drill. From home loans and car loans to equipment and fit out loans, or even commercial properties and practice purchases, the medical finance specialists at Credabl will provide a tailored solution for you.  
To find out more, visit www.credabl.com.au 
Conclusion
Would you purchase a practice or a house first? Did you find Albert and Craig's insights useful? We would love to hear your thoughts! 
Remember to subscribe for more content!
Comments
(1)
To leave or reply to comments, please download free Podbean or