Episodes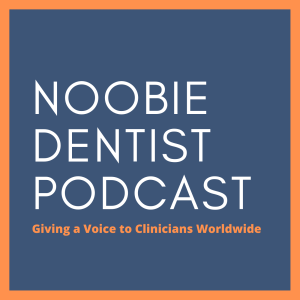 Monday Feb 15, 2021
Monday Feb 15, 2021
Episode Run Time: 00:43:25
@noobiedentist
Intro
Today I talk to Glen Stewart, who has been working in finance for 21 years. Originally from Ireland, he came to Australia and landed in the retail and property markets. For the past ten years, Stewart has been working in the medical finance space and is currently head of credit at Credabl. 
In this interview, we talk about good and bad debt, how to buy a practice, and when to buy a house, car, or a practice. We also tackle how your credit scores are calculated and why it's essential to consult a specialist lender rather than your local bank. 
Guest Details
Social Media
Time Stamps
[00:05:20] Glen Stewart's origin story
[00:07:19] Glen's main area of expertise
[00:09:04 A borrower's main selling point when approaching lenders
[00:13:05] Benefits of taking on debt
[00:15:30] The link between low-interest rates and debt taking
[00:18:42] Factors that make or break debt applications
[00:22:55] Average start-up cost to set up a practice in most cities
[00:23:50] A lender's approach to financing start-ups
[00:25:28] Factors that influence the success rate of start-up practices
[00:27:10] Buying an established practice versus starting from scratch
[00:30:10] Corporate interference during practice ownership
[00:32:49] Dental practice success stories
[00:37:30] Defining credit scores
[00:42:17] Glen's message to you about debt
Podcast Details
As always, if you enjoyed listening to the Noobie Dentist Podcast, please pass
the podcast along to your friends, classmates and colleagues. If you haven't already, head
over to iTunes and give the show a 5-star rating, and if you have some time, leave a review!
The Noobie Dentist podcast is now available on Spotify, YouTube, noobiedentist.com, the Apple
podcast app, Stitcher, and any other podcast apps out there!
Website: http://www.noobiedentist.com
Instagram: @noobiedentist
Sponsor Details
This episode of Noobie Podcast has been proudly supported by specialist medical lender Credabl. If you need finance, be it for your personal or professional needs, the team at Credabl know the drill. From home loans and car loans to equipment and fitout loans or commercial property and practice purchases, the finance specialists at Credabl will provide a tailored solution for you.
To find out more, visit www.credabl.com.au 
Conclusion
Were you inspired by Glen Stewart? Are you thinking of opening a practice? We would love to hear your thoughts! 
Remember to subscribe for more content!